Welcome to watch our webinar we are hosting with GenomeWeb, featuring insights from Professor James Batchelor, Director of the Clinical Informatics Research Unit at the University of Southampton.
This webinar will discuss how to leverage an integrated platform for discovery and research in order to accelerate the translation of insights into clinical understanding, highlighting this process in the context of the fight against the COVID-19 pandemic.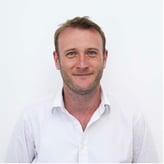 Professor James Batchelor, will describe the ways his team adapted an existing framework, in collaboration with BC Platforms, to understand multiple aspects and parameters relating to COVID-19 patient treatment in the NHS.